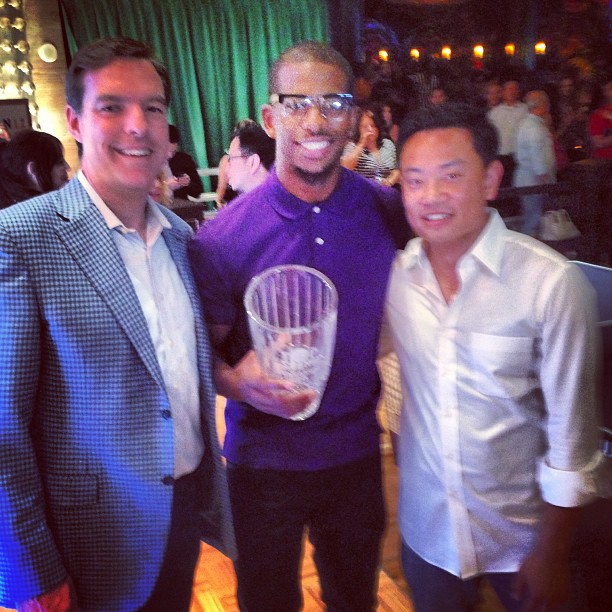 Freedom Tower
One of the most beautiful views I've seen. At my friend Michael's condo in Jersey City, looking ​at New York City and the Freedom Tower.
Foggy Hong Kong Cable Car Ride
A foggy cable car ride in Hong Kong
Jason Mraz @ Madison Square Garden
My friend Yesl is the first person to ever take me to a Jason Mraz concert years ago. I've been hooked on that dude ever since. To show my gratitude to Yesl, I got us floor seats to see him at Madison Square Garden on December, 10, 2012.
Great Falls National Park
I've been to Great Falls National Park before, but this was the first time I explored a little more. I found this gorgeous spot where people go Kayaking.​
Walter Issacson
Thanks to my friend, Katie, I got a chance to meet Walter Issacson. Walter was the biographer of Steve Jobs.​ May 7, 2012
Sunrise in Mui Ne, Vietnam
Experiencing a beautiful sunrise in Mui Ne, Vietnam with Dan, Joanne, and Jenn.​
Kids Diving in Vietnam
Kids beating the heat with a plunge into a river in Vietnam.
Lightning in Saigon
Caught some lightning on the first night in Saigon.
Hong Kong Skyline
A night shot of the Hong Kong Skyline
Silhouettes & The DC Monument
A fun photo shoot with my friends Christy & Mantik. Their silhouettes by the DC Monument
Hirshorn Art Gallery
A ​Hirshorn Art Gallery's art installation. Doug Aitken's "Song 1" - A 360 degree video projection around the whole building!
Cherry Blossoms by the water
A shot of the Cherry Blossoms in DC by the Tidal Basin
Cherry Blossoms at night
Evening shot of the cherry blossoms & the Washington monument
DJ Questlove @ The Newseum
Questlove from the roots, DJ'n BYT's Halloween Party at the Newseum in DC.
Wale @ Fader & Vitamin Water Uncapped
Wale performing at the Fader & Vitamin Water Uncapped in DC
Sunset in Lebanon, PA
A sunset in Lebanon, Pennsylvania
Wushu Performance
A wonderful wushu performance in Rockville, MD
UFC 133
Meeting up with college friends at UFC 133. So proud of Phil Davis for making it in the UFC and representing Penn State!​
Rocky Balboa
It might have been just a movie, but the Rocky series has always been inspirational. Kevin, Steven, & I at the Rocky Balboa statue in Philadelphia
2012 New Years
My DC Fam celebrating 2012 New Years!
US Naval Academy Memorial Hall
Don't Give Up The Ship! - Memorial Hall at the US Naval Academy in Annapolis, MD.​ A fun day of snapping photos with my friend Matt.
Vietnam War Memorial & Washington Monument
A winter evening photo walk with Dan. ​
Entourage & Pongers
A photo of table tennis players with Dough Ellin and Kevin Dillon, on the set of Entourage's Tequila Sunrise episode in LA
Entourage- Kevin Dillon
On the set of Entourage's Tequila Sunrise episode with Kevin Dillon
Entourage - John Stamos
Meeting John Stamos on the set of Entourage's Tequila Sunrise episode.​
Entourage Screenshot
My .25 seconds of fame on Entourage's Tequila Sunrise episode.​
Falling Water
Frank Lloyd Wright's Falling Water house.​
Jamie Foxx
​At Susan Sarandon's Pre-Oscar Hollywood party. Jamie Foxx is a pretty good table tennis player!
Spin New York - Judah Friedlander
At the grand opening of Spin New York with comedian and 30's rock star, Judah Friedlander
Spike Mendelsohn - We The Pizza
Meeting Bravo Top Chef Spike Mendelsohn at We The Pizza
Spin New York - Susan Sarandon
Spin New York's grand opening with Susan Sarandon and Wally Green
Justin Long
Hi, I'm a mac! Justin Long and his brother at Susan Sarandon's Pre Oscar Hollywood party
Shannon Lee
Meeting Shannon Lee, daughter of my hero, Bruce Lee!​
Rob Stone
With Rob Stone of the Fader magazine & Cornerstone. Seriously one of the coolest and most genuine guys I know!​
We Are One - Inauguration Concert
With Han & Dan at the We Are One inauguration concert in DC ​
Brian Wilson
Brian Wilson at Clayton Kershaw's Ping Pong 4 Purpose
Inauguration
At Presiden't Obama's 1st Inauguration in DC with Huong
Inauguration - DC
On the national mall for President Obama's 1st Inauguration.​
UFC - Joe Stevenson
UFC fighter - Joe Stevenson
UFC - Matt Hughes
Meeting UFC legend, - Matt Hughes
UFC - Matt Serra
Meeting UFC's Matt Serra. The man with the legendary right hand that rocked George St. Pierre!​
2008 Olympics - Soccer Finals
At the Bird's Nest for the 2008 Olympic Soccer finals at the Bird's Nest in Beijing, China
2008 Olympics - US Basketball
A snaphshot of the US Basketball team after a win. Dwayne Wade, Lebron James, Kobe Bryant, Chris Paul, Carmelo Anthony, Carlos Boozer
John Wall & Flip Saunders
With #1 draft pick, John Wall of the Washington Wizards and former coach Flip Saunders
Paddle Jam
With former Pussy Cat Dolls Jessica Sutton & comedian Hal Sparks at Paddle Jam
Adoni Maropis
Playing table tennis with Adoni Maropis. Remember him as Abu Fayed on the hit show 24?
Hunter Pence
With Hunter Pence when he was a member of the Philadelphia Phillies. This was for his charity event, Let's Go Eat!
Weezer Concert
My first Weezer concert, with Steve, Dan, & Joanne!​
Billiards
Mike & I with our friends & billiard pros, Mika Immonen, Xiaoting Pan, and Caroline Pao
Old Rag
On top of Old Rag mountain in Virginia. A great hike with my friend, Mina
​
Michael Robinson
My all time favorite Penn State football player, Michael Robinson! He embodied and represented what Penn State & Joe Paterno was truly about. MRob is currently playing for the Seattle Seahawks.
Matthew Perry & Clayton Kershaw
Matthew Perry & Clayton Kershaw at Clayton Kershaw's Ping Pong 4 Purpose event
Christopher "Drama" Pfaf
Drama at Clayton Kershaw's Ping Pong 4 Purpose
Omar Miller
Omar Miller at Clayton Kershaw's Ping Pong 4 Purpose event
Andre Iguodala
Andre Iguodala at the 2013 Topspin Charity Event in Las Vegas.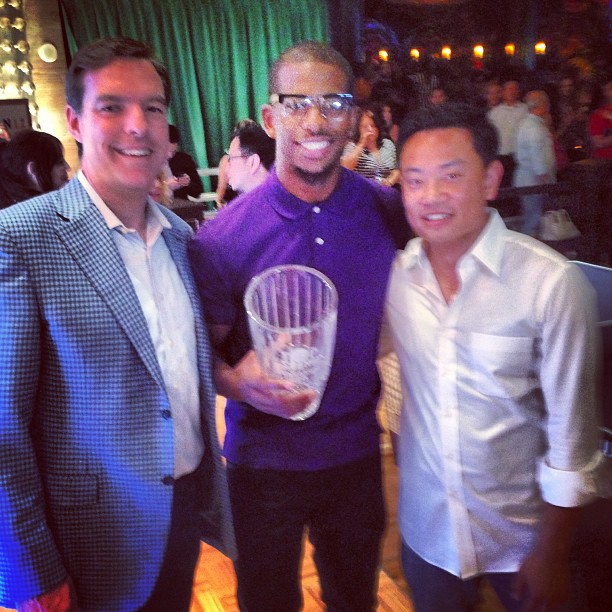 Peter, Chris Paul, Tom
With Chris Paul after his win at the 2013 Topspin Charity Event in Las Vegas
Roger Mason
Roger Mason at the 2013 Topspin Charity Event